Curriculum Newsletters
Curriculum newsletter available here per year group
At Harlescottt Junior School we value the learning needs of our pupils. This means that rather than subjects driving the curriculum, we also consider the needs of our children. This determines the emphasis. Our teaching staff deliver the statutory curriculum so our children are able to learn from our age appropriate objectives and reach appropriate standards. Our teaching staff also acknowledge that our children need much more than this. To balance this we have 'creative themes' per term which allows children to contribute towards the planning process. The 'creative themes' we will explore this year are:
Autumn – Passport to the World
Summer - Bugs and Beanstalks
These 'creative themes' shape the statutory curriculum which we have to cover for each subject area through a programme of study. The programme of study includes the essential knowledge, skills and understanding within subjects. It does require repetition, as it's this part of the curriculum that leads to progress.
Our 'creative themes' are planned carefully so it is delivered in an engaging way with the aim to inspire the children to go on and learn more independently.
At the start of the new 'creative theme' the more real the learning experience is, the more likely it is that children will engage. We set up 'Wow' moments. For example, this term the children enjoyed a theatre production which introduced the children to the outbreak of war.
Teacher's plan in their teams so the statutory curriculum is mapped out then we add ideas led by the children through the 'pupil voice' discussion. We feel strongly about children feeling part of our planning process. We call this steering process 'pupil voice'. This steering process is offered to the children before a new 'creative theme' begins and part way through the term too.
Another part of the planning stage is to plan for progression. This is carefully monitored so we know the children are provided with an adequate challenge.
Please explore our Curriculum newsletters to see what each year group will cover this term.
These poppies were made from clay by our Year 4 children. They looked splendid at our Armistice Day Service at the church. They surrounded the altar and made our service extra special.
Ella has created a fantastic model of a wartime home which even includes a mini allotment. This links to the Dig for Victory objective her class studied recently. She has worked so hard to produce such a realistic design. How did she create the brick work? Great work!
Jacub has created a convincing model of an Anderson Shelter. He has learnt all about the Blitz in lesson time and how the air raid siren signaled it was time to take cover from the Luftwaffe bombings. This must have taken him some time to construct and design but it was certainly worth it. Well done!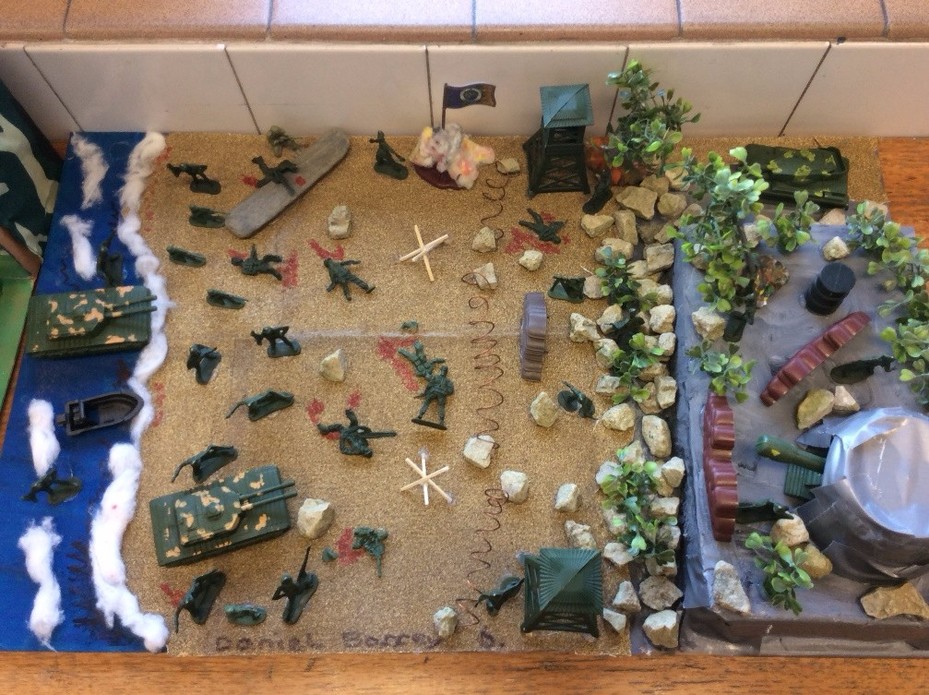 Daniel has worked really hard on is World War 2 homework. His diorama is fabulous. The attention to detail is very impressive. The children in his class love looking at this. Fantastic!
Polly has worked extremely hard on her Anderson Shelter. She has even grown a garden to surround it. You will never guess what she has made the sandbags from. This must have been so much fun both in the planning and design process as well as watching it spring to life. Well done!
Watch this space for more amazing topic related homework next term.